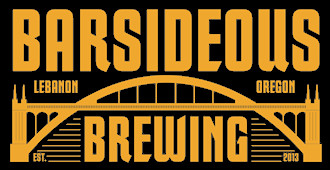 "Everybody has to believe in something... I believe I'll have another drink." W.C. Fields
---
We believe in teasing the palate and pleasing the purse. For $85 you'll receive:
A genuine Barsideous mug with your name etched on it, that lives at the brewpub, and happy hour prices on that mug all day, everyday.
A "welcome to the club" one-time fill-up when you join or renew; and a free mug fill-up on your birthday. It's because we love you.
Discounts on Barsideous ticketed events - Lebanon Brew Fest, Barsideous comedy shows, concerts, etc.
10% discount on merchandise. Again, it's because we love you.
Invitations to Mug Club-only events including pre-release access to seasonal, specialty and one-off barrel aged beers.
A pretty awesome BB newsletter that comes out once a quarter. Because of your membership, we're going to sign you up? We just really want you to know what's going on at the brewery.
And of course, bragging rights over all your friends who haven't joined the mug club yet.
---
Sign-up Form
Join the Family - your pint awaits:
$85 for the first year of membership
$75 per year to renew membership
$300 Lifetime membership. Includes everything in a one year membership - No renewal needed.
Now for the nitty gritty...
Club Membership and benefits are not transferable.
Mug Club membership runs from February 15th for the year of purchase. Memberships purchased on or after February 5th still expire the following February.
To sign up, visit Barsideous Brewing & Pub at 644 S. Main St., Lebanon, OR. For more info, visit our website - Barsideousbrewing.com or check out our Facebook page.
So you've heard all that is the Barsideous Brewing Mug Club experience. Now the questions is - what are you waiting for?! Let's get down to the brewpub for a mug - cheers! Print this page and fill out the form below.
Print Name __________________________ Sign _____________________________
Phone __________________ Date _________ Email __________________________
Archives
Categories
Events Calendar
December 2023
| M | T | W | T | F | S | S |
| --- | --- | --- | --- | --- | --- | --- |
| &nbsp | &nbsp | &nbsp | &nbsp | 1 | 2 | 3 |
| 4 | 5 | 6 | 7 | 8 | 9 | 10 |
| 11 | 12 | 13 | 14 | 15 | 16 | 17 |
| 18 | 19 | 20 | 21 | 22 | 23 | 24 |
| 25 | 26 | 27 | 28 | 29 | 30 | 31 |