Here is a brief video from the early launch of Barsideous Brewing.
After growing up in Lebanon and moving to various parts of Oregon, the Bartman/Franks families wanted to do something to help revitalize our hometown. Brewpubs have done just this in many communities across the U.S. and it's a natural fit. The concept of Barsideous Brewing is to create a gathering place that will draw people in with handcrafted beer, hearty food and entertainment. A place that will invite great conversation with friends; and bridge connections to our community – hence the Bridge in our brand.
For our Brewpub, we found a beautiful 100+ year-old building in the heart of Down Town —the historic Lebanon Gem Theater (orignally the Empire Theater, then the Kuhn, and finally the Gem; with the new Kuhn next door) – which has a fascinating history: a storied past dating back to before 1910 when it was host to live vaudeville entertainment and silent movies. And, legend has it that it's haunted! It appears on Oregon's list of top 10 haunted places. Our desire was to return the "Gem" to its original grandeur.  Up front, we have the pub and kitchen. In the middle is the perfect small-batch brewery. And the back third is what time has left of the theater: seating with a stage for comedy, live music, open-mic and entertainment, big screen classic movies and sports. A wonderful space for special events and group entertaining.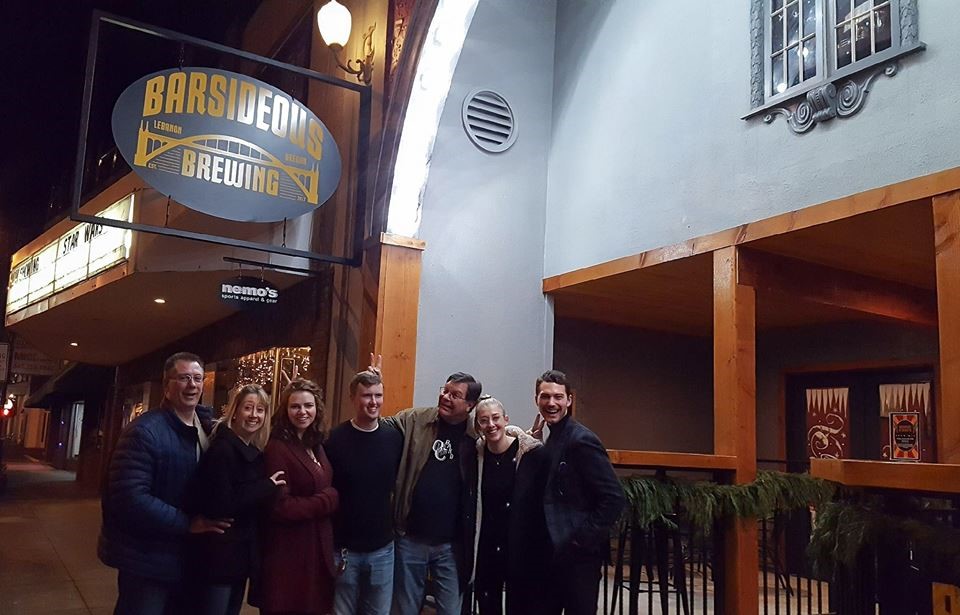 Our Name – Barsideous Brewing
As explained in a February 2017 Northwest Brewer Magazine article
Homebrewer's Corner: Belgian Saison - by Mitch Scheele
Bill Bartman was a music teacher for 33 years, including the last dozen spent at Oregon City High School. Scholastic coworkers gave him the nickname "Barsideous" because he could talk anyone into anything. The moniker comes from Bart Simpson's alter-ego Bartman, and Darth Sidious, Dark Lord of the Sith in one of those endless Star Wars shoot-em-up space operas.

When Bartman and his family moved to the Oregon coast in the 1990s there wasn't much access to quality, flavorful beer. So, his kids thought he should give homebrewing a try, and gave him a kit for his birthday. It seemed a bit intimidating, so he put it off until Father's Day, when his son pulled out the gear and said, "OK, we're going to spend the day together brewing." As in the oft-told tale, he has been hooked ever since. Very much like music, it became his passionate obsession. He quickly progressed from kits to all-grain and recipe development—from bottling to kegging to fermentation control. Bartman says, "I love the beer, the science, art, and experimental nature of it, the creativity and the do-it-yourself projects."

Flash forward to the present as Bartman has joined forces with some like-minded friends and relatives to create Barsideous Brewing. The crew includes Aaron Franks, Brian Franks and Joel Bartman in management, web designer Jeff Baker, and graphic artist Jeremy Kramer. The original plan was to secure a location in Salem, but after several months and many detours, they have signed on a property in Lebanon. It is the site of the old Kuhn Theatre, built circa 1910 for vaudeville acts and silent films. It became the Gem Theatre around 1936 when the Kuhn moved next door, where it continues to this day. Conversion Brewing is only two blocks away on Main Street, and proprietors Scott Bruslind and Matt Cowart have already come by to share knowledge and advice in the true Lebanese brewing spirit

As a brewer, Bill Bartman likes to take an intuitive approach, bringing a holistic sense of how the individual parts will add up and interact to form a beautiful and balanced beer. "I like to brew beers for the enjoyment of drinking; that push the boundaries of flavor, ingredients and alcohol! Beers that are brewed with attitude and the poetry of the moment. Brewing is not engineering, in the sense that there are no equations for flavor. You have to grope your way through every brew with rhythm, harmony and contrast, and then get the parts to transcend their individuality and add up to something sublime. We brew for the love of trying creative things… with seriousness, but never forgetting FUN! We pour our heart and head into our brewing so that something wonderful will always appear in the glass."
Dave Berry : "Without question, the greatest invention in the history of mankind is beer.  Oh, I grant you the wheel was also a fine invention, but the wheel does not go nearly as well with pizza."
In fact, it's estimated that beer was invented a good 1,500 years before the wheel!  Suggesting that for perhaps 1,500 years (or more), beer drinkers couldn't count on a dependable ride home.  Remarkably, the wheel wasn't even developed to enable transportation, but for the production of pottery, which was of course necessary to hold beer.  Therefore ……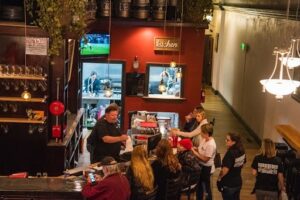 Concept
Barsideous Brewing – a radical, small batch brewery and pub.  We believe brewing is: an art form; a gastronomic treasure; a food; and a fundamental human craft.  At Barsideous we don't want to create food and drink that we are not 100 percent proud of or a place we wouldn't want to go ourselves.  We want to create Barsideous as a central gathering place for local beer lovers.  We brew for people who care more about enriching their lives with people, beer and food, and places of highest quality and distinction; for people who don't want to be told why a beer is great as much as they want to experience it for themselves.   Our beers are real, not cliché.  We brew them in small, handcrafted batches.  We brew for the love of trying creative things.
True and successful Nano brewers have always put quality, diversity and the people who will enjoy their beer first on their list of priorities. Barsideous brews beers that have personality…. that draw you farther and farther into the matrix of what Barsideous is all about.  Its not necessarily about the beer – we strive to resonate with our customers – connecting emotionally; its not just a brewery, it's a community.  With good beer there are friends to be made.  Take a good, healthy swig and begin to feel the camaraderie, the glow, the warm evening air, the conversation, the culture – and the urge for another!
Community Supported Brewery
Barsideous Brewing sprang from a passionate desire to save our planet from bland industrialized products, to salvage the authentic flavors of the world's great beers, and restore the artistry in the making of this beloved beverage.As an Artisan-Crafted Locally-Sourced Unique Small-Batch Nano-Brewery, being small allows us to build a relationship with you!
At Barsideous we are passionate about the flavor of great beer - brewing up fresh, character-filled beers of all strengths, shades, and sensibilities. Quality beer is a part of a lifestyle that values the experience of living, of making every moment an adventure, every taste worth tasting.
Farm to table, grain to glass - every beer tells a story about its agricultural roots, its historical context.  Barsideous Brewing is one of a few Community Supported Breweries (CSBs). We see it as a "bridge brewpub," bridging connections to our Community. In the same way that Community Supported Agriculture (CSA) was created to help our neighborhood farmers and ranchers fund the hard work of growing our food, your subscription to our CSB helps us and in turn helps us support local farmers by buying their hops and barley, fruits, vegetables and meats. Then we make really great beer and hearty meals that you (and all our guests) get to enjoy, along with sweet perks you receive as a CSB brewery member. For sign-ups be sure to ask your server.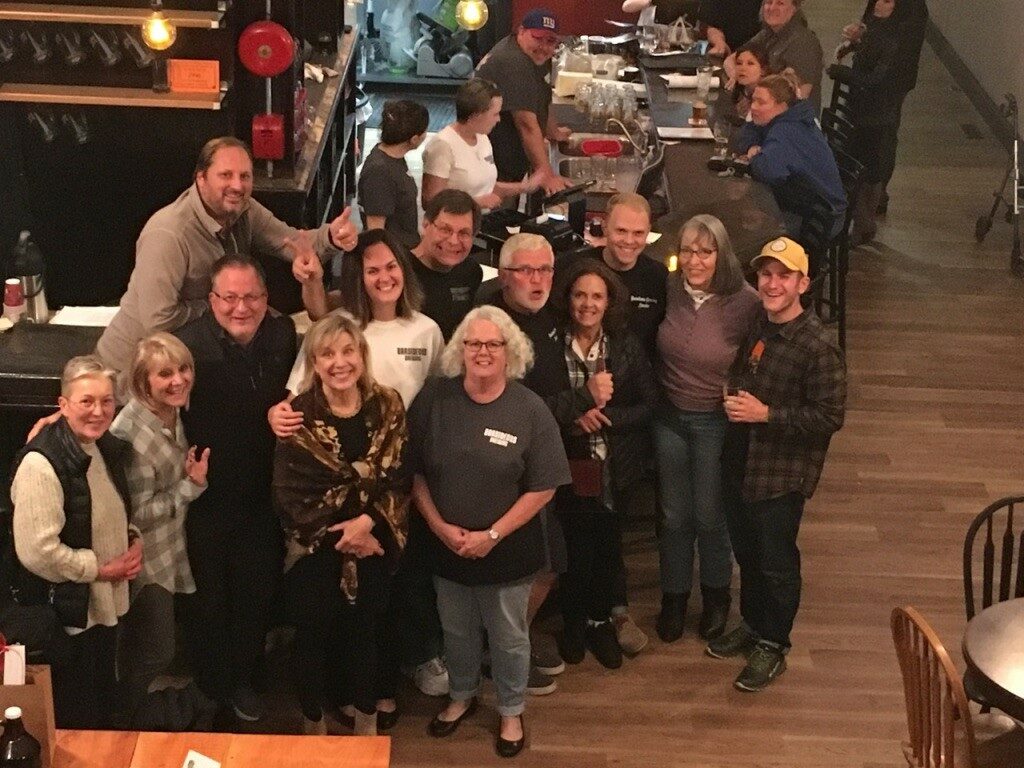 Archives
Categories
Events Calendar
December 2023
| M | T | W | T | F | S | S |
| --- | --- | --- | --- | --- | --- | --- |
| &nbsp | &nbsp | &nbsp | &nbsp | 1 | 2 | 3 |
| 4 | 5 | 6 | 7 | 8 | 9 | 10 |
| 11 | 12 | 13 | 14 | 15 | 16 | 17 |
| 18 | 19 | 20 | 21 | 22 | 23 | 24 |
| 25 | 26 | 27 | 28 | 29 | 30 | 31 |